June 2022 Newsletter
Grand Opening Success!
Thank you to everyone who came out for our grand opening. We had over 1,000 people stop in to see the new ABA Center expansion. The kids had a wonderful time doing crafts and participating in fun activities. The adults enjoyed educational classes, and we gave so many tours that we ran out of tour guides! If you missed out on your tour, please be sure to call us. We would love to schedule an appointment to show you around and tell you about everything we have to offer.
Dr. Tami was interviewed by Mitch Albom during his live show to talk about our grand opening. They spoke about all the beneficial therapies offered here at The Oxford Center, the amenities of the new building, and Dr. Tami and Mitch's firsthand experiences with Hyperbaric Oxygen Therapy. If you missed it, You can listen to it any time HERE.
Call 248-486-3636 or
Learn more about our ABA Center expansion HERE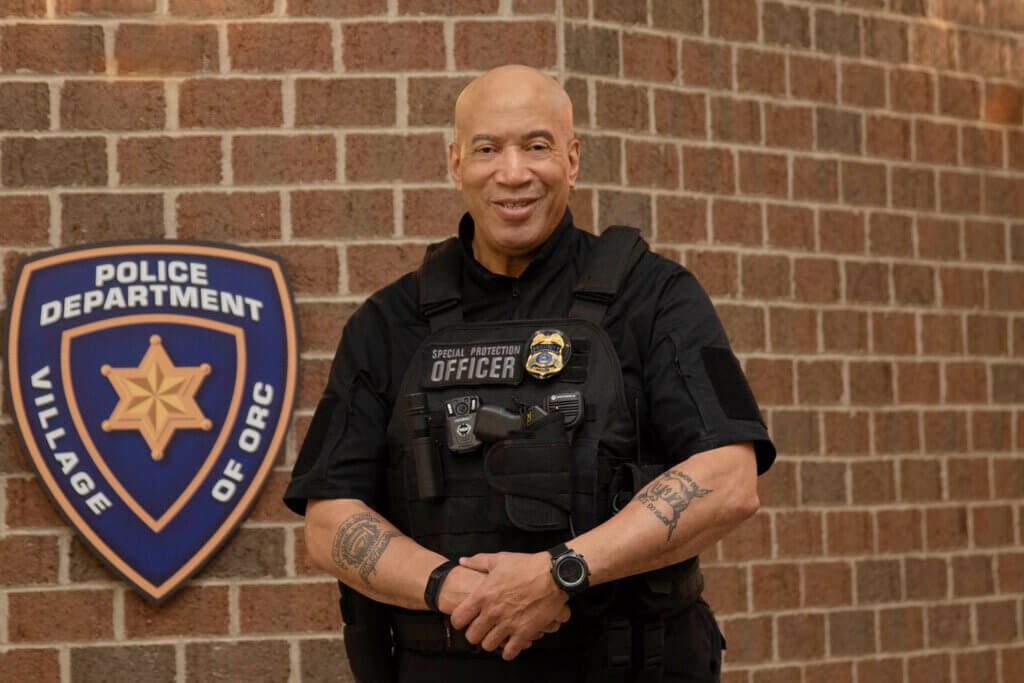 Safety and Security at The Oxford Center
The health, safety, and security of our patients, visitors, and staff here at The Oxford Center is our highest priority. While we have not experienced any concerning incidents within our facility, we feel that based on events happening in our world today, we must be proactive in the protection of those we care for. With that in mind, we have hired our first security officer, Officer Edward Blackburn. He will be working in the Brighton location.
Edward has over forty years of public and private sector security, law enforcement, emergency management and public safety experience. He holds a Bachelor of Science Degree in Criminal Justice with a concentration in Human Services and a Master of Science Degree in Security Administration from University of Detroit Mercy. He has served as a police officer, firefighter, a Lieutenant public safety director, and associate dean of homeland security at Wayne County Community College and as a parole / probation agent with the Michigan Department of Corrections. He has trained with various local, state, and federal law enforcement agencies.
We feel that Edward brings the knowledge, skill, and ability needed to maintain security here in our building. He also openly displays empathy and kindness that will help our kids become comfortable not only with him but with other public service members in our community. In his spare time, Edward enjoys cooking and playing golf. He has been a little league football coach for twenty years, and his favorite part of coaching is all the big hugs that he gets from his players. When you see Edward around the building, please stop and say hello. He would love to get to know you.
"I am so excited about being a part of the The Oxford Center family and overwhelmed by the love and support that I have received. I am at a loss for words. My goal, commitment, and obligation is to provide the highest level of protection and safety to all our little ones, our staff, and all who visit this tremendous facility. My daily prayers are for peace, blessings, and love for the whole world. Thanks to all of you for your support. I will do my best to always protect you and keep you safe." – Officer Edward Blackburn
If you have questions about safety protocols at The Oxford Center, Please call the Brighton location at 248-486-3636.

Registration is Open!
Silent Auction
Opens Saturday, July 9th at 12 pm
Closes July 15th at the Completion of the Event Dinner
Golf Classic
Fox Hills Golf and Banquet Center in Plymouth
Friday, July 15th, Shotgun Start at 9:04 am
18 Holes of Golf with Cart
Hot Dog, Pop, and Chips at the Turn
Dinner Buffet After the Round
Gather your foursome and spend the day out on the course, or log in online and bid on some great auction items. All proceeds go to Oxford Kids Foundation to help families in need pay for therapies not covered by their insurance.
Golf Classic is capped at 36 teams, so register now!
Register at: OKFGolf2022.givesmart.com
or by texting OKFGolf2022 to 76278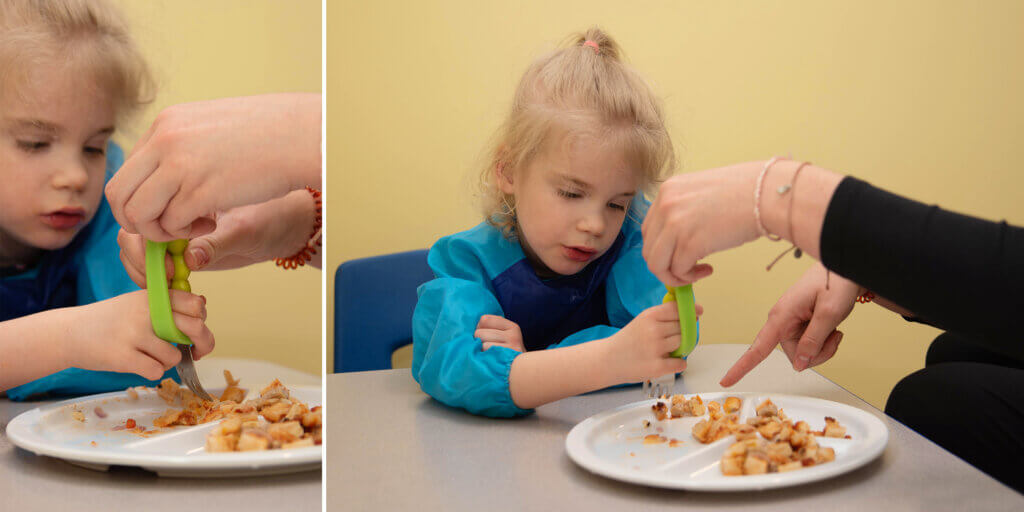 Dinner Time Tips for Children with Autism
Many children with Autism face struggles at dinner time. Whether it is a sensory aversion, a fear of certain foods, deficiencies in fine motor skills, or difficulty participating in conversation, there are many things that we as providers and parents can do to help them. This month, we will look at what we can do to work on fine motor skills and decreasing food aversions at the dinner table.
Learning to use utensils can be a challenge for some of our kids. One thing that I recommend to parents is to have their child help pick out their preferred utensils. They may want to use the same utensils that parents or older siblings are using, or they may be more comfortable with something completely different. Have them feel the textures of the handles. Do they like smooth or rough handles? The feel of the utensils or the weight of them may be particularly important. Offering our kids choices can help them to feel involved and set them up for a more successful outcome.
When first using utensils, I often tell the parent to help guide the child's hand in the appropriate motion and assist them with stabbing or scooping up their food. This helps the child get used to the amount of pressure it takes to get the food onto the fork or spoon. The parent can then release their hand and give the child the independence to bring the food to their mouth. As the child gets more practiced at these motions, the parent can gradually fade out the physical prompt. All these motions are things that we may take for granted as adults, but they are especially important for our children who may be working on their fine motor skills.
One of the most important things that I stress to parents when working with utensils is consistency. If you are going to work on eating with utensils, then you should follow through with that to the best of your ability. If a food requires the use of a spoon or a fork, then the child should be using one every time. Being inconsistent can cause them to question when they should or should not use utensils.
The food that you put on your child's plate can also present important opportunities for learning. Many children on the autism spectrum have aversions to different types of foods. I recommend putting a little bit of whatever you have made for dinner on your child's plate, even if you are uncertain that they will eat it. Manipulating new foods can help children discover new textures and may leave new scents on their fingers, exposing them to new food groups and smells. Putting the food in their mouth may be too large of a goal, but these smaller accomplishments are great ways to incorporate desensitization to different foods.
At The Oxford Center, we want to help make each of our kids as successful as possible. If you have questions about our ABA program, please call us at any time. We would love to talk with you and set up a discovery session for your child.
-Shannon Hunyadi, M.A., BCBA, LBA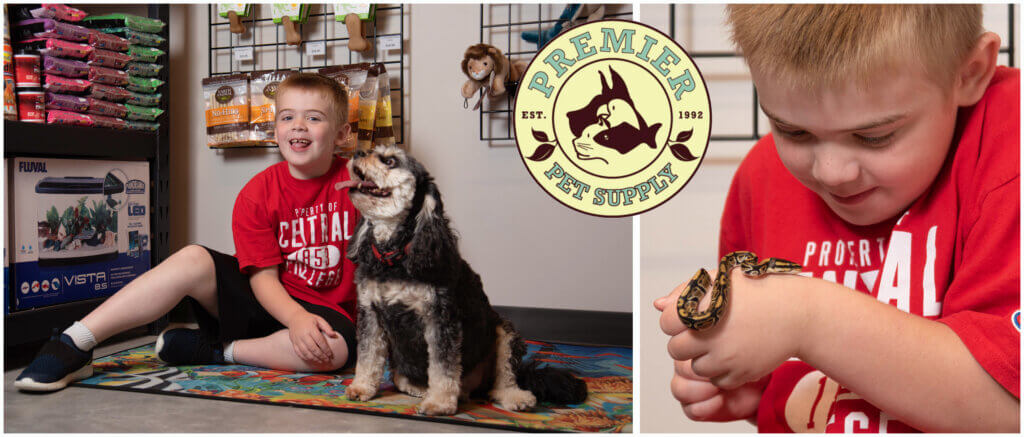 Premier Pet Supply In The Village of The Oxford Center
Our pet supply store is sponsored by Premier Pet Supply. They have 13 locations across Southeast Michigan, offering nearly everything you need to take great care of your furry friends. From food, toys, and even Do-It-Yourself washing stations, they have you covered. Our pet supply store in The Village of The Oxford Center has toys and treats for your dog or cat, fish tank supplies, lizard and snake supplies, and much more! All proceeds from purchases made in our store will go back to The Oxford Kids Foundation.
The Village of The Oxford Center uses our Premier Pet Supply for many Natural Environment Teaching opportunities, along with program based rewards and of course FUN within our non-traditional ABA program. We teach appropriate behaviors within the pet store, such as: the proper way to gain a workers attention, requesting and waiting, how to appropriately interact with pets and their surroundings, tolerating denied access by not taking pets home, and more. We also teach responsibility management on how to care for pets, the cost of pets and the supplies needed in order to own a pet. Last, but not least, FUN! Premier Pet Supply is one of our kiddo's favorite stores to visit. They absolutely love holding and interacting with the animals there. It's a great reward for them after they've worked so hard to master their goals.
All of these skills are hugely important for kids within the autism community. At The Oxford Center, we are leaders in advancing the way ABA is done. Premier Pet Supply is an instrumental partner in our program's success
Find out more about The Village of The Oxford Center Here
Find out more about Premier Pet Supply Here
OUR NEW PARKING LOT AND NEW MAIN ENTRANCE ARE OPEN!
The Maltby Road entrance will soon be closed. Please park in the parking lot on the south side of the building on Whitmore Lake Road. Use the entrance with the beautiful butterfly sculptures.