March 2022 Newsletter
New ABA Director
We are excited to announce our new ABA Director, Jessica Dodson. Jessica attended Calvin College and graduated with a degree in Psychology, minoring in Social Work. She attended Western Michigan University to obtain her master's degree in Behavioral Analysis. She then went on to acquire her Board-Certified Behavior Analyst (BCBA) certification.
During a gap year in college, Jessica began working as a behavior technician. Among her first clients was a sixteen-year-old boy with Autism who had limited vocal and functional living skills. Over the first few months of working with him, he learned to vocally request to eat, brush his teeth, and engage in independent leisure skills. Seeing the impact that ABA therapy can make, even for older children, was the catalyst that set her on her career path and inspired her to obtain her BCBA certification.
As the Director of ABA, Jessica is passionate about helping the staff at Oxford Recovery Center grow. She believes that an exceptional staff equates to an exceptional client experience. Her goal is to continue expanding ABA Academy as well as Camp ABA. She feels that Oxford Recovery Center's focus on the skills most appropriate for each child, as well as their family, is what sets us apart. The ability to combine ABA therapy with all other services available at Oxford Recovery Center, such as Physical Therapy, Occupational Therapy, Speech Therapy, Hyperbaric Oxygen Treatment and Neurofeedback, is something that she finds extremely exciting. Having doctors and nurses on staff to assist with treatment plans is something most other ABA programs do not offer and is a huge benefit to her as a Board-Certified Behavior Analyst.
In her free time, Jessica enjoys playing board games and hanging out with her three cats. She sees her time at Oxford Recovery Center as one of her greatest achievements.
Post COVID-19 Treatment
COVID-19 can cause long lasting symptoms for those who have had the virus. Research studies are showing Hyperbaric Oxygen Therapy can help with many post COVID symptoms such as fatigue, loss of taste and smell, brain fog, headaches, memory problems, malaise/lethargy, and more. Research suggests that capillary damage, inflammation, and low blood oxygen levels may contribute to post COVID symptoms. Hyperbaric Oxygen Therapy has been proven to reduce inflammation, saturate plasma with oxygen, and increase stem cell circulation up to 800% which enhances the body's ability to heal itself. Oxford Recovery Center has had tremendous success in treating post COVID. Whether you have recently had COVID or if you had it in the past, hyperbaric oxygen therapy can help you in your COVID recovery.

AMC is proud to partner with the Autism Society to offer unique movie showings where they turn the lights up, and turn the sound down, so you can get up, dance, walk, shout or sing! AMC's Sensory Friendly Film program is available on the second and fourth Saturday (family-friendly) of every month. AMC has four theaters in southeast Michigan offering this program. They are listed and linked below so that you can find the upcoming showtimes of films in sensory friendly format.
AMC Birchwood 10 – 4350 24th Ave, Ft Gratiot, MI 48059
AMC Form 30 – 44681 Mound Rd, Sterling Heights, MI 48314
AMC Livonia 20 – 19500 Haggerty Rd, Livonia, MI 48152
AMC Star Gratiot 15 – 35705 South Gratiot Ave, Clinton Twp, MI 48035
New Building Update
Our new ABA Center is well on its way, with framing for our one-of-a-kind village currently in progress. When completed, we will be able to offer services to our clients that haven't even been imagined at other ABA or Autism centers.
Our BCBA Shannon says:
"We'll have all kinds of opportunities to target behaviors from being on a playscape, to practicing in a dentist or salon chair, ordering coffee, or going to a dollar store. Everything in this environment will mimic what it looks like in the community. There are curbs, there's a walkway, we'll have kids with bicycles and scooters navigating the environment here so that it will make them more successful in the natural environment. The indoor playscape was built to allow them to play with other children and to be more successful when they are playing elsewhere, like a local park or playground. Those are just some of the features that we have that will help to make our children successful."
Hadley's Story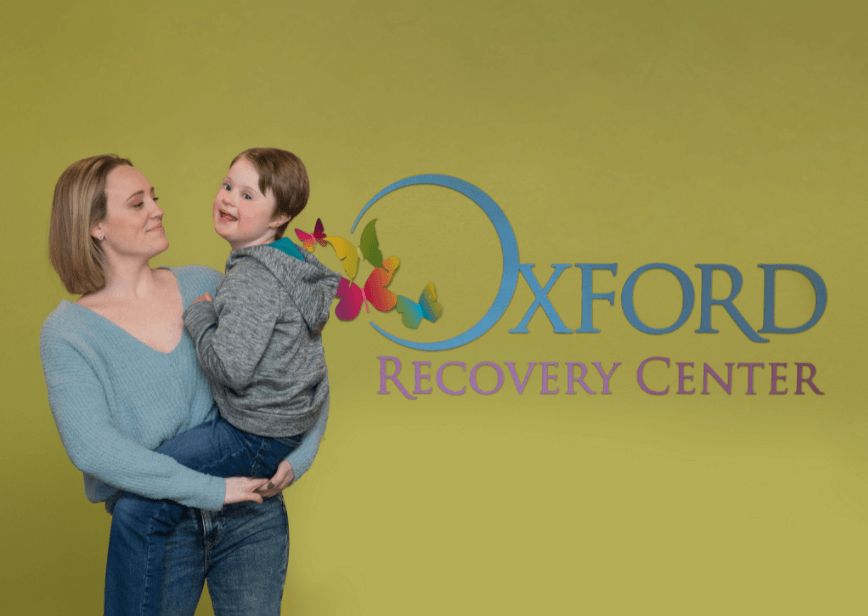 CLICK HERE TO DONATE THE OXFORD KIDS FOUNDATION.
HELP KIDS LIKE HADLEY GAIN ACCESS TO LIFE CHANGING THERAPIES NOT COVERED BY TRADITIONAL INSURANCE.
"Thank you, Oxford Recovery Center. You gave me my baby. Thank you for turning him into a little person. You saw possibilities in him when other people didn't." Megan is talking about her nine-year-old son Hadley. Hadley has Down Syndrome and has been a patient at Oxford Recovery Center for most of his life.
At fourteen months old, his family made their first trip from Southwestern Michigan to Oxford Recovery Center for Hyperbaric Oxygen Therapy. At that time, Hadley was not able to sit up. After six days and twelve treatments, he was able to sit with support, and even began to crawl. A little over a year later, TheraSuit Physical Therapy was added to Hadley's routine and at two and a half, Hadley began walking for the first time. At just over three years old, he began recognizing shapes, colors, letters, and letter sounds. At four years old, he went from a word count of twenty-five before his round of Hyperbaric Oxygen Therapy to a word count of one hundred after.
At the age of five, Hadley's family made the life changing decision to move closer to Oxford Recovery Center. Hadley was then able to experience the wealth of additional opportunities available. Hyperbaric Oxygen Therapy, Neurofeedback Therapy, Speech Therapy, ABA, and Physical Therapy were all utilized. Because of these additional therapies, Hadley began self-feeding, reading, writing, and was even potty trained.
Last April, Hadley received a grant from the Oxford Kids Foundation for Hyperbaric Oxygen Therapy and Neurofeedback Training. At nine years old he is making great strides in vocabulary, comprehension, and memory retention. He had previously not been able to participate in his church's Bible memory group because of his inability to remember Bible verses. That all changed recently when he memorized all of Psalm 23. Megan credits much of this to his most recent therapies.