Sudden Hearing Loss can be an extremely unsettling experience for anyone. One day you are functioning with your normal hearing levels, then very quickly those levels deteriorate dramatically. It can be scary looking for answers and hoping for recovery, but The Oxford Center is here to help.
Sudden Idiopathic Hearing Loss (SIHL), also known as Sudden Sensorineural Hearing Loss (SSHL), is an urgent situation characterized by an acute onset of hearing loss. It may occur in an instant or happen over several days. The suspected causes of this are viral infections, cochlear artery occlusion, rupture of the intracochlear membranes, and biochemical alterations.
Read on to learn more about one of our own patients' experiences with Sudden Hearing Loss.
Patient's Journey with Sudden Hearing Loss
Oct 17 – sudden hearing loss in right ear.
Oct 21 – tube inserted through eardrum (topical & oral steroids begin); initial audiologist hearing test shows a 75% loss.
Oct 22, 25, 26, 27, 28, 29 – Hyperbaric Oxygen Treatments at The Oxford Center (6 treatments total).
Oct 25th – precautionary MRI; no tumor or other issues identified (loss is presumed to be due to a virus).
Nov 3rd – Second audiologist test shows significant improvements.
Nov 9th – tube removed & eardrum patched.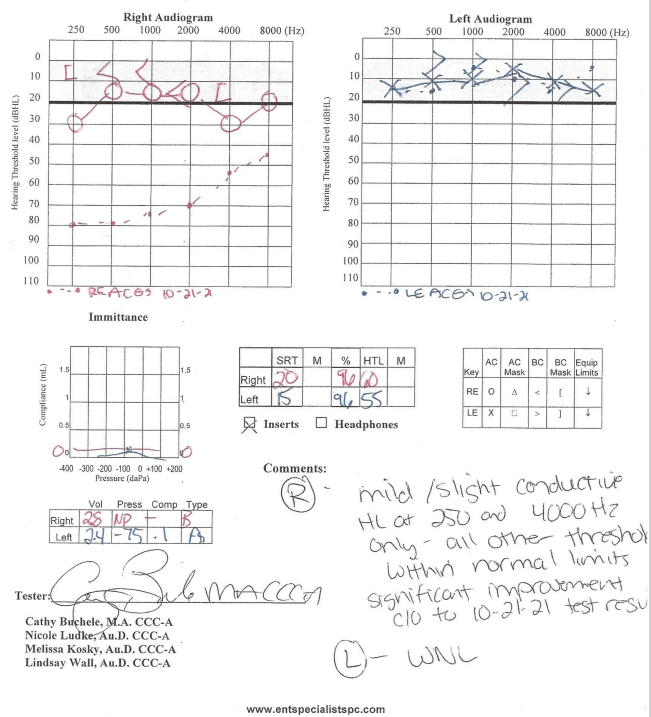 "In the figure above, the red dashed line shows the results from my initial audiologist report and the severe hearing loss in my right ear. The red circles are from the second appointment showing the across-the-board improvement.
My partner is a researcher at Michigan State University, so I was able to access some research studies about Hyperbaric Oxygen Therapy used to treat sudden hearing loss. The studies conducted are mainly coming from China and South Korea. The study sizes were small (around 100-180 participants) and included experiment and control groups. The control groups were only given steroids (I believe both orally and topically). Experiment group received steroids as well as Hyperbaric Oxygen Therapy treatments. The number and frequency of treatments varied among the studies, but one study used treatments twice a day for the first three days. Overall, reviews of the studies from Western researchers state the studies show Hyperbaric Oxygen Therapy treatments are beneficial for improving hearing loss, particularly at low frequencies. The reviews also show that Hyperbaric Oxygen Therapy treatments are most beneficial if done within the first two weeks of hearing loss."
Patient Results
"So – I am so very relieved that my hearing has come back!!! The chart shows some degradation at a couple of frequencies, but I do think my hearing improved further after having the tube/grommet pulled out. There was still a bit of a weird "fullness" feeling that went away after removal. I really can't tell any difference from before this all happened. From what I read, full recovery can be expected somewhere around 10% of the time, partial 50-60%, and about 30% without much improvement. So, I feel extremely fortunate. I'm happy the ENT mentioned the hyperbaric treatment and that I did it."