Cerebral Palsy & Hyperbaric Oxygen Therapy: An Alternative Method for Hope
Cerebral Palsy is a condition that affects approximately 500,000 people in the United States while Hyperbaric Oxygen Therapy is widely unknown in the States. Following a Cerebral Palsy diagnosis, many individuals and families seek specialists to provide ongoing care and treatment. These specialists may include a physical therapist, speech therapist, occupational therapist, and/or neurologist. Many individuals and families who seek out these services find that they progress… but they also seem to plateau after a certain point. After this point, it can seem that there is nothing left to do but continue the same path of managing but not really progressing. That is, until Hyperbaric Oxygen Therapy steps in.
What is Hyperbaric Oxygen Therapy?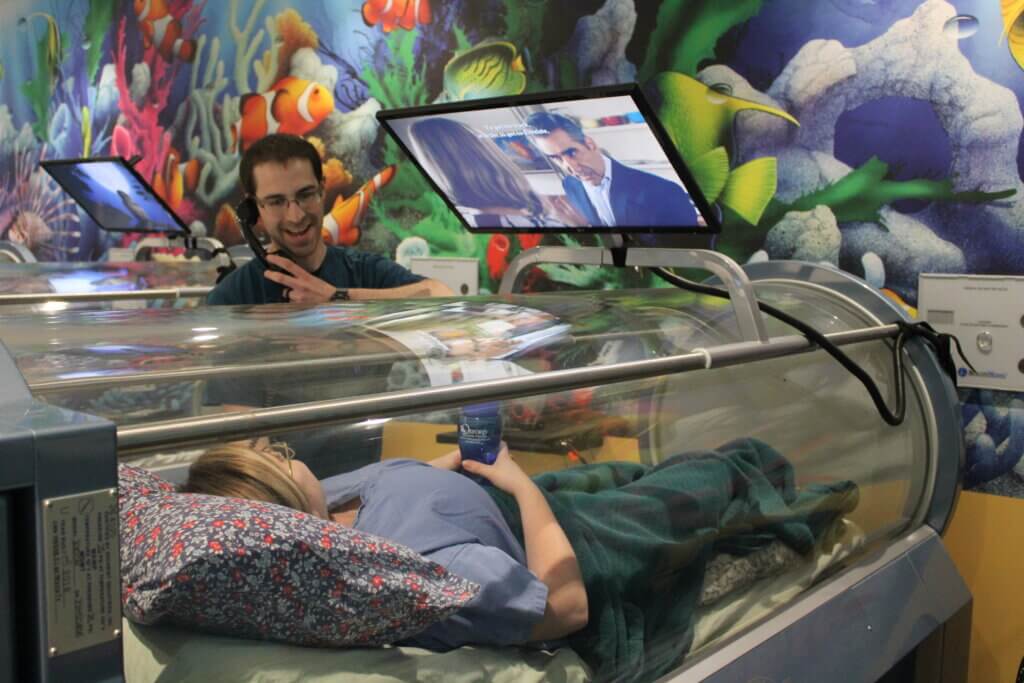 Hyperbaric Oxygen Therapy (HBOT) is a noninvasive and specialized form of medical treatment administered by delivering 100% pure oxygen to the body. Normal air only has oxygen levels of 21% so the difference is dramatic! The body naturally uses oxygen to heal, so increasing the amount of oxygen delivered to the body and into the bloodstream accelerates the body's ability to heal and progress. The only thing the patient has to do? Breathe.  
Hyperbaric Oxygen Therapy has widespread benefits that improve and treat symptoms for many different conditions. The general healing power of HBOT makes it a promising option for what seems to be an endless list of injuries and conditions. Especially when used in conjunction with other types of therapies and/or treatments, HBOT is a tremendous tool to help individuals progress and heal.
How Hyperbaric Oxygen Therapy Benefits Cerebral Palsy
Cerebral Palsy (CP) is a neurological disorder that affects movement and posture. CP is caused by damage to the brain before, during, or shortly after birth. In essence, the damage to the brain that causes CP is a traumatic brain injury, so CP can be treated very similarly to a brain injury. HBOT is effective in the treatment of CP because it can increase the amount of oxygen that reaches the damaged areas of the brain. This increased oxygen can help to reduce inflammation and promote the repair to bone and soft tissue.
Studies have shown that Hyperbaric Oxygen Therapy is effective in improving some symptoms of Cerebral Palsy, such as spasticity, motor function, and cognitive function. HBOT is able to decrease inflammation, enhance vascular activity, encourage nerve cell growth, and improve gross motor function. Research has also shown a decrease in muscle spasms and sleep disorders for individuals with CP who have used HBOT.
Overall, while there is no cure for Cerebral Palsy, Hyperbaric Oxygen Therapy is a wonderful option to help manage symptoms, progress, and improve quality of life. Treatments can be especially effective when HBOT is used in conjunction with other therapies, such as physical therapy, intensive TheraSuit therapy, speech therapy, and more.
Hyperbaric Oxygen Therapy at The Oxford Center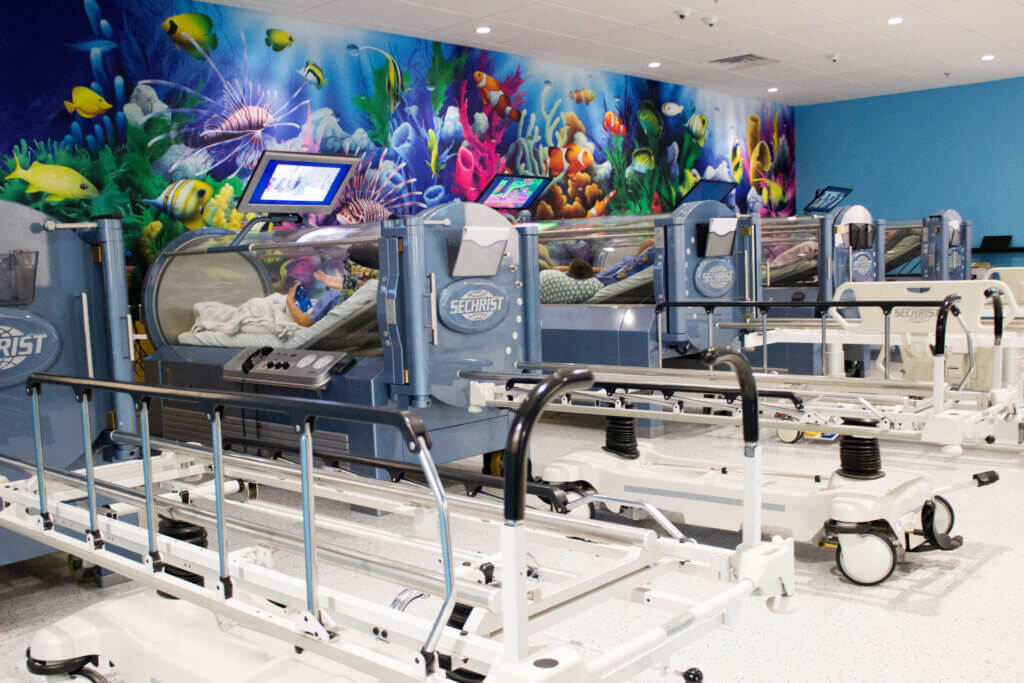 The Oxford Center is proud to be a leading provider of Hyperbaric Oxygen Therapy in Michigan. Our facility uses the highest quality technology available, and we follow strict guidelines to ensure our patients receive the best possible care. Children who participate in HBOT love sitting and playing during their therapy, and we offer access to many different streaming services so that patients can lay back and watch their favorite movies or shows during their therapy!
The Oxford Center has a long, personal history with Hyperbaric Oxygen Therapy. Our CEO and Founder, Tami Peterson, found HBOT while searching for something to help her daughter after doctors said there was nothing more to be done. HBOT was able to give Tami her hope back after everything else was lost, and that is what we have found to happen with many of our clients. Now, it is our mission to spread the healing power of HBOT so that others can hope again as well.
Other Cerebral Palsy Services at The Oxford Center
Just like every person is different, every child has different needs and therapies that will work best for them. Here at The Oxford Center, we offer a number of therapies that can help improve symptoms related to a Cerebral Palsy diagnosis. I.e., Hyperbaric Oxygen Therapy, Neurofeedback Therapy, Intensive Physical Therapy, Speech Therapy, Occupational Therapy, and our Functional Nutrition Therapy Practitioner. This integrative approach allows every individual with Cerebral Palsy to get the therapies they need. No matter what needs you or your child may have, The Oxford Center is here to help!