We have all had moments when trying to find a new doctor or medical center and have some trouble. You want to find a center you can trust and one that will be as invested in your health as you are, but it's hard! We might dive deep into reading reviews of the center or doctor, look at their credentials and degrees, etc. But what if there was a score from patients that showed their satisfaction? That way, you could see an unbiased score that accurately shows how consumers feel about the business. Thankfully, with an NPS score- there is.
What is an NPS?
NPS stands for 'Net Promoter Score'. The NPS is a widely recognized customer loyalty metric that measures a customer's satisfaction and willingness to recommend the company to others. It is something we have all probably filled out at one point but may have been unaware of what the score was lending itself to. An NPS survey is very simple: One question that asks how likely you are to recommend the business to others within a rating range from 0 to 10. Every business has an NPS, even though most of us are unaware. Scores range from –100 to (+)100 with 'good' scores ranging from 1-29, 'great' scores ranging from 30-70, and an 'excellent' score ranging from 71-100. For example, Amazon's NPS is 51. Walmart's NPS is 12. Starbuck's NPS is 35.
The average NPS in the medical field is 38. The famous John's Hopkins Hospital, which has been ranked the number one healthcare facility in the nation, has an NPS of 34. Mayo Clinic's NPS is 24. Cleveland Clinic's NPS is 29. These are all widely, highly regarded medical centers. In comparison, The Oxford Center is a very small medical center. Yet, the NPS of The Oxford Center is 78.33 and our average for the 2023 year so far is 100. According to global NPS standards, any score of 70 and above is considered 'world-class' and a part of the top percentile.
The Oxford Difference

At The Oxford Center, we devote ourselves to doing our best to serve every client that comes in our door. We know firsthand what it is like to lose hope and feel lost and unheard in the healthcare system. That's why we focus on The Oxford Difference. We may do things a little differently than some other healthcare facilities, but we believe that is what makes us better… and now, it is clear our clients think so too.
The Oxford Center offers a long list of services, all under one convenient location. We offer Hyperbaric Oxygen Therapy, Neurofeedback Therapy, primary care, Physical Therapy, Intensive TheraSuit Therapy, Speech Therapy, Applied Behavioral Analysis, Occupational Therapy, nutrition services, and more. We offer a 60,000 square foot facility that offers the largest area in the nation for Natural Environment Teaching complete with twelve functioning retail stores that include a smoothie shop, café, coffee shop, hair salon, pet store, and more. Our largest interest is in doing what is best for our clients and patients, which is why we seek out the best possible resources and materials for every aspect of our facility.
Unlike most other facilities, we offer a synergistic approach in almost everything we do. For example, if someone comes to us after having a stroke, we will assess their individual needs and recommend all of our services that may be helpful to them rather than just focusing on a single treatment or therapy. Possibly the biggest reason we are different, though, is that you will not just be another patient or client, you'll be family.   
The Oxford Family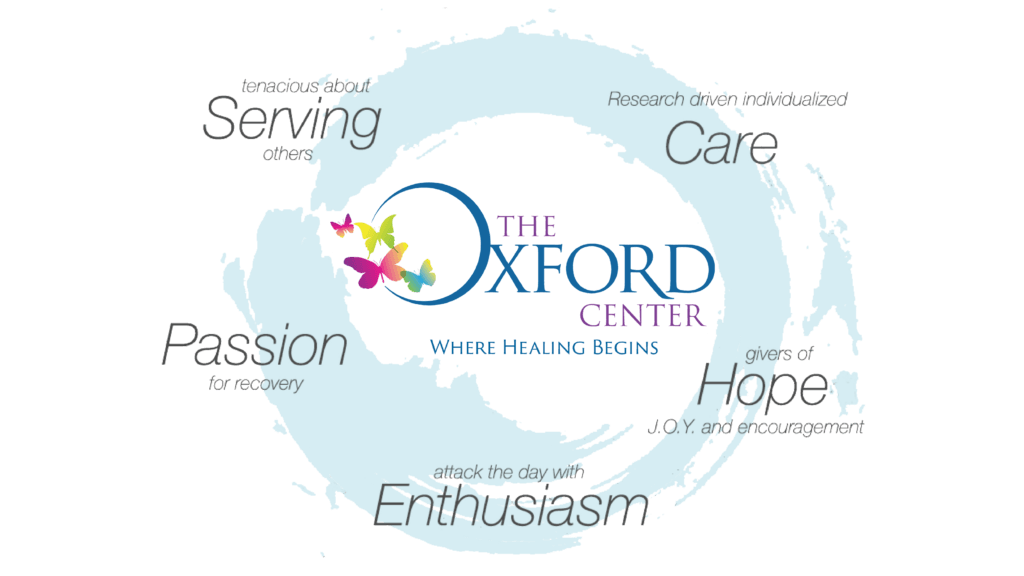 Coming to The Oxford Center is not like walking into just any medical center. It's like walking into a family. So many of our staff have joined the team after being a client here first, so they personally know how the individuals and families walking in our doors feel. That understanding is why we believe we are more dedicated to helping than other healthcare facilities. We understand.
Our CEO and founder, Tami Peterson, created the company after being told there was nothing more to be done for her daughter and refusing to accept that. The Oxford Center's functional nutrition therapy practitioner (FNTP) joined the team after suffering through a car accident and feeling that the medical system failed her. Our marketing director joined the team after losing hope that his daughter with Cerebral Palsy would be able to learn to walk. Many of our BCBA's, therapists, and front desk staff grew frustrated with the limitations of other facilities and have children in our Applied Behavioral Analysis (ABA) program. The list of staff members who have joined the team as a result of their own medical ventures goes on and on.
This is why we often refer to ourselves as the Oxford family. Family is something that should be there for you in your hardest times, and ready to celebrate with you during your times of achievement. That is what we have all done with each other, and what we are devoted to doing with all of the clients that come in search of our help. A large family is a blessing, and thankfully, ours seems to just keep growing.
How Can You Help?
Our mission is, and has always been, to spread hope and healing as widely as possible. We know there are countless individuals and families out there that could use our help, and oftentimes the best form of marketing is word-of-mouth! If you thought of anyone while reading this article that has been struggling to remain hopeful or find the results they need, tell them about us! No matter what the case or condition is, we are here to help, listen, and support.
We have so many clients and patients who come to us with stories of losing hope after going from doctor to doctor for their child or condition, and we don't think it has to be that way. While we don't perform miracles, we can guarantee that we will do everything in our power to care for you and won't stop fighting because that's what family does. Meanwhile, we will do everything we can to provide hope and healing while we welcome others into our Oxford Family.